Automatic License Plate Recognition
SimpleLPR is a software component aimed at vehicle license plate recognition (see LPR, ANPR). It has a very simple application programming interface which allows applications to supply a path to an image or a pointer to a buffer in memory and to get in return the detected license plate number and its location in the image.
It can be used from C++ or any .NET enabled programming language such as Visual Basic .NET, C#, VB Script or JScript. Integration is simple and straightforward as demonstrated in the examples supplied with the SDK.
Typical successful detection rates range from 85% to 95% provided that license plates are in good condition, unoccluded and the text height is larger than 20 pixels.
Algeria
Argentina
Australia
Azerbaijan
Belgium
Bolivia
Bosnia and Herzegovina
Botswana
Brazil
Bulgaria
Cambodia
Cameroon
Canada
Cape Verde
Chile
Colombia
Costa Rica
Croatia
Cuba
Cyprus
Czech Republic
Denmark
East Timor
Ecuador
El Salvador
Estonia
France
Georgia
Germany
Greece

Guatemala
Honduras
Hungary
Iceland
India
Ireland
Israel
Italy
Jordan
Kenya
Latvia
Lithuania
Luxembourg
Malaysia
Myanmar
Namibia
Netherlands
Norway
Peru
Poland
Portugal
Puerto Rico
Romania
Singapore
Slovakia
Slovenia
South Africa
Spain
Sweden
Switzerland

Turkey
United Kingdom
Ukraine
Uruguay
Venezuela
Vietnam
Screenshot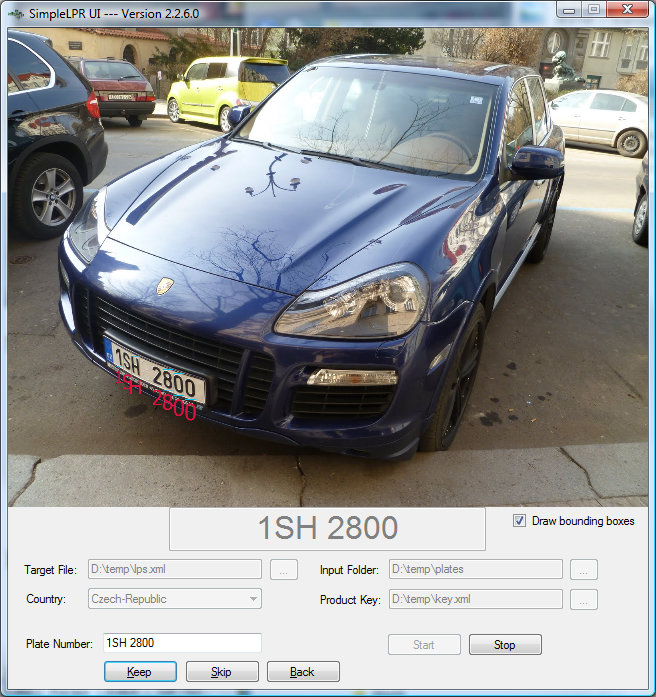 Windows XP
Windows Vista
Windows 2003 Server
Windows 7
Windows 8
Windows 10
Windows XP 64
Windows 2003 Server 64
Windows Vista 64
Windows 7 64
Windows 8 64
Windows 10 64
License plate pictures should be taken from a straight angle. For better results text in license plates should be horizontally aligned.
License plate characters should be taller than 20 pixels and unoccluded.
Assuming that the pictures comply with the above conditions, the detection accuracy should be around 90%.
Here you can download the SimpleLPR user's guide.

Here you can download an unlicensed copy of SimpleLPR for evaluation purposes.

Here you can purchase a licensed copy of SimpleLPR.
The unlicensed version will be fully functional during 60 days.
The licensed version costs 400€. Licensing entitles owners to distribute a royalty free unlimited number of copies of SimpleLPR along with their applications.
You can submit your questions/issues/bug reports/feedback to support@warelogic.com